South Africa is an extremely family and kid friendly destination!
Cost summary for 34 days in South Africa for a family of 4 including all airfare, car rental, transportation, accommodations, excursions, food, groceries and everything down to a stick of gum:
Total cost for 34 days: $5,221.40  
Daily average: $153.57
Accommodation: 1,795.58
Transport (including 34-day rental car): $904.71
Excursions: $1,128.21
Restaurant: $495.92
Groceries: $360.16
Insiders Quick tip: Ditch the Lonely Planet Guide Book and pick up a free Alternative Route backpackers accommodations guide book from any hostel. They are everywhere. Call for accommodations from the book and reserve with your name. You do not need to leave a credit card and this will allow you to change accommodations without having to pay a cancellation fee if you book online!
There are plenty of family accommodations options (see the quick tip above), well-stocked shops, sunshine, safe beaches, high hygiene standards, wild animals, babysitters, and burgers on tap.
Hotels and guest lodges usually provide discounts for children under 12, and children under age 2 sharing with parents are usually allowed to stay for free. Ages and discounts vary considerably, however, so it's best to check beforehand.
South Africa also has a large number of excellent self-catering cottages.
Bear in mind that many operators in private game reserves are loathe to accept children under 12 (although Schotia Safari's does). Because prophylactics are not recommended for those under 5, choose a malaria-free area (i.e not Kruger Park), or visit during a dry winter.
If you want to have a good time traveling with kids make sure to rent a car.
Family Gap Year Trip to South Africa (Aug 10 – Sept 11) 31 days
Our basic itinerary consisted of 10 stops: Cape Town → Hermanus  → Oudtshoorn →  Wilderness  → Plettenburg Bay  → Jeffrey's Bay  → Addo Elephant Park → Chinsta → Coffee Bay → St. Lucia → Durban.
It can be broken down into two parts:
Part 1: Western Cape – Cape town to Plettenburg bay (garden route)
Part 2: Eastern Cape – Jeffreys Bay to Coffee Bay
Part 3: KwaZulu-Natal – Durban
Part 1: The Western Cape – Cape Town to Port Elizabeth
1. Cape Town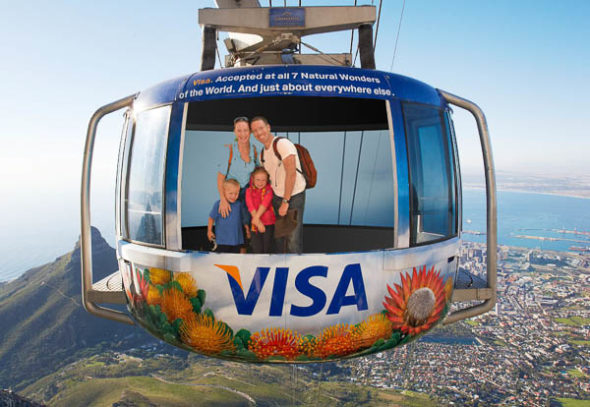 You can read my full Cape Town blog post here
I would start out by purchasing well-priced tickets on the city tour bus which will take you everywhere you need to go. Buy a two day ticket to get all the benefits. Visit the V&A Waterfront, Table Mountain,
2. Simonstown (Boulders) and Cape Point

You can read all about Simonstown and Cape Point with kids on my full Cape Town blog post here
We spent a spectacular 3 hours here and then headed out to Cape Point.
3. Hermanus – Whales and Shark Diving
You can read my full Hermanus for families blog post here
From Cape Town you travel along the coast of flowers to Hermanus.
Hermanus is well known for its whale watching in Whale Season (July – November). Out of Whale Season is Hermanus a nice coastal place to visit and for the adventurous once you can dive with the Great White Sharks.
4. Oudtshoorn – Ostrich Capital of the World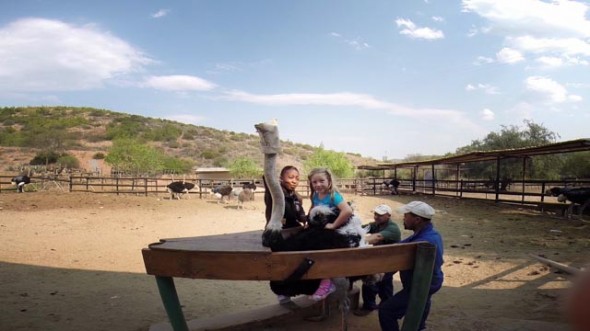 You can read my full Oudtshoorn for families blog post here
There are 3 big things you have to do when you go to Oudtshoorn. I would recommend at least 2 days to make sure you can enjoy your time.
Meerkat Adventures – only takes adults and children 10 and over (I may have to ditch the family for a few hours) and the 18 miles outside Oudtshoorn to the
Ostrich Farms (pg 134 in Lonely planet): There are 3
BEGIN THE "GARDEN ROUTE"
5. Wilderness and Victoria Bay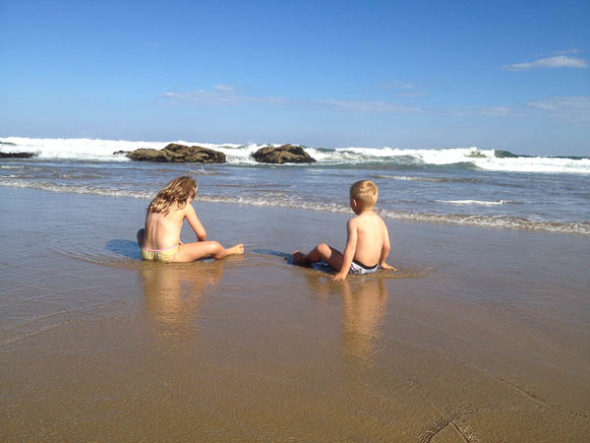 You can read my Wilderness and Knysna for families blog post here
We decided to stay in Wilderness because of it's location.
6. Knysna (Township Tours and Home Stays)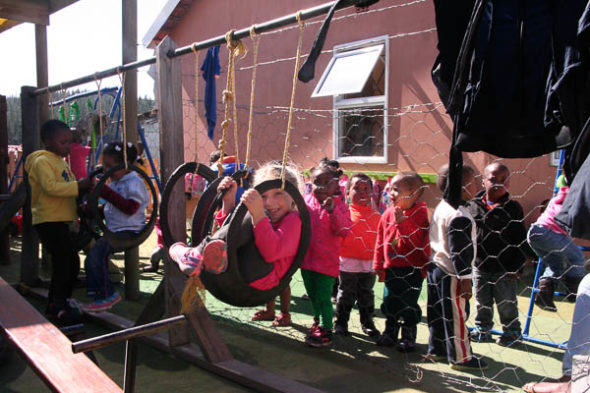 Some people recommend staying in Knysna, and this may be a reasonable option as well. We made it a day trip from our hostel in wilderness. Knysna is a tourist hub and there is a lot of shopping and small places to eat. There is also a ferry ride that we only read about.
For us, it was all about the township tour with Emzini Tours.
7. Plettenberg Bay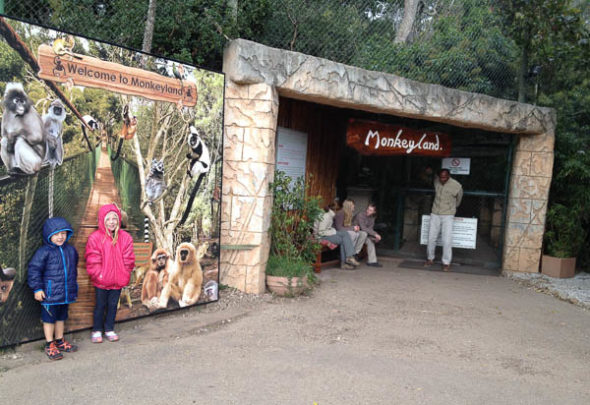 You can read my Plettenburg Bay for families blog post here
Plettenberg Bay is a perfect stop for families. It has nice family beaches, a quaint downtown, reasonably price accommodations (on the off season at least) and great activities for adults and kids alike.
Tenikwa and the wild cat experience: Spend time with Cheetahs
Monkeyland: rehabilitation center for wild monkeys
Birds of Eden: The worlds largest free flight aviary
8. Bungy Jump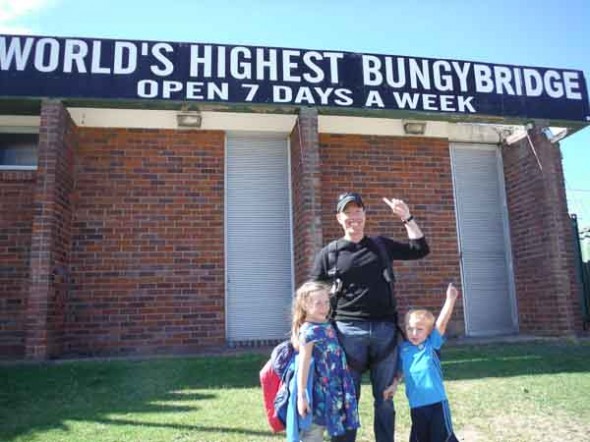 Watch video of my historic jump here
Right outside of birds of Eden take the kids and let them watch you propel your body off the largest jumping bridge in the world book through Face Adrenaline.
9. Jeffrey s Bay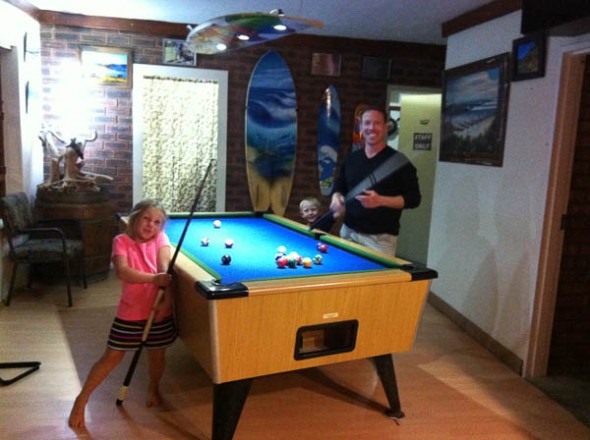 You can read my Jeffrey's Bay for families blog post here
Jeffreys Bay is well known for its beautiful long beaches with an abundance of shells. Apart from that it is one op the top 10 best places in the world to surf it is a great place for families.
10. Addo Elephant Park and Schotia Safari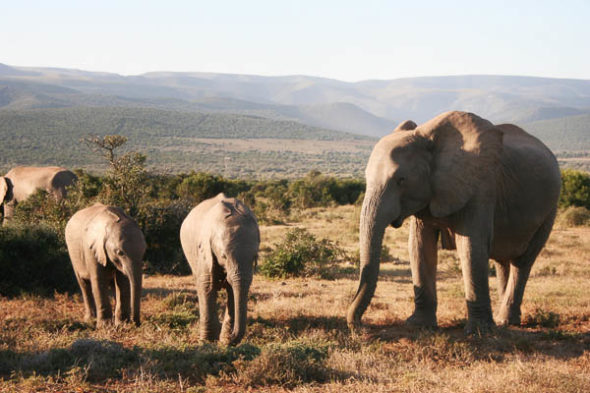 You can read my Addo Elephant Park for families blog post here
The Eastern Cape is popular for its game reserves.
A combination of the two below is an excellent opportunity to see a lot of wildlife like elephants, rhino, buffalo, hippo, lions, zebra's, giraffe, wildebeest etc.
Part 2: Eastern Cape – Port Elizabeth to Durban (The Wild Coast)
The Wild coast is well known for its rough nature and undeveloped places. It is a peace of pure South Africa. An interesting tour if you are interested in the history of South Africa and nature.
11. Chintsa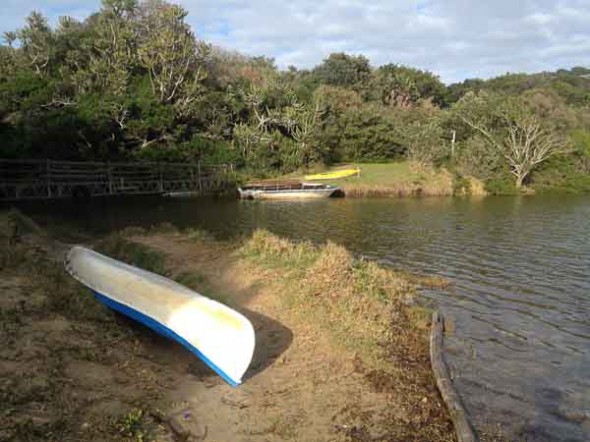 Chintsa was a cool stop with an interesting vibe.
12. Coffee bay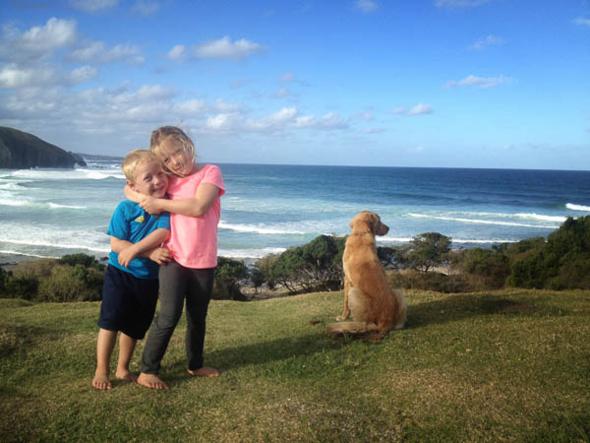 You can read my full Coffee Bay for Kids and Famlies blog post here
Drive to one of the most popular places in the Wild Coast called Coffee Bay.
You drive through a scenic area with very little development and building. This area is the former Transkei, which was the area where the Xhosa's lived.
As it is quite a drive to get to Coffee Bay you will have one more day to explore the area. At your hotel you can book a day excursion to the natural site, The Hole in the Wall or a cultural tour which will learn you about the live and culture from this area. Overnight in Coffee Bay.
13. St Lucia and 
Hluhluwe-iMolozi

Park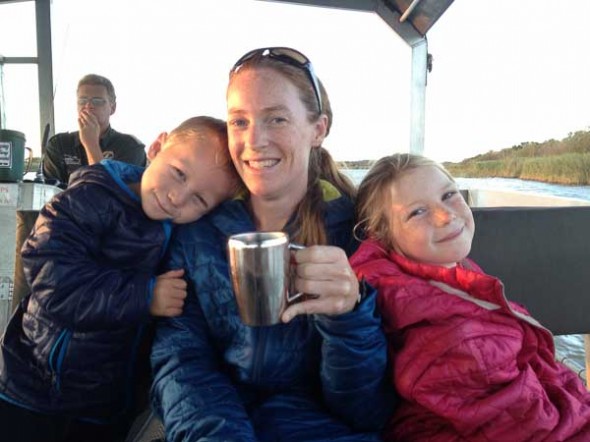 You can read my St. Lucia blog post here and my related Safari for families blog post here
St. Lucia was formed about 60 to 100 million years ago when the Indian Ocean withdrew from the sandy coastal regions of Kwazulu Natal.
The greater St.Lucia Wetlands is one of the world's great eco-tourism destinations. The Convention on Wetlands of International Importance has listed St.Lucia as having international conservation value. The region also satisfies the criteria for listing as a UNESCO World Heritage area.
The main attractions here are the Hippo, a safari through the St. Lucia Wetlands and as a jumping point for Hluhluwe-iMolozi Park
15. Durban and Umhlanga Rocks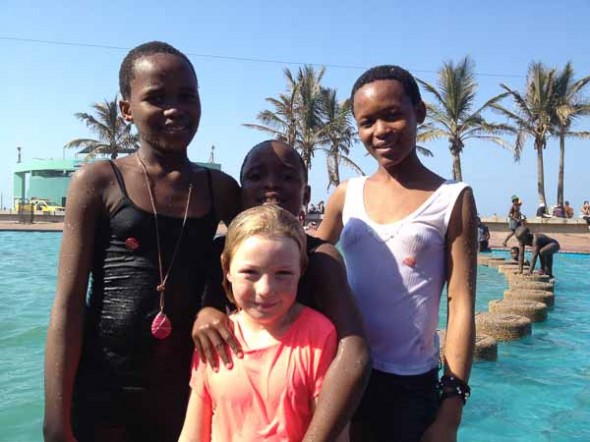 You can read my Durban for Kids and Families blog post here
You can enjoy the beachfront of Durban, explore the area and visit one of the beach front attractions. I would recommend staying in Umhlanga Rocks just past Durban.