Malaysia is one of the best places to travel in South East Asia with Kids.
Nine months ago if you asked me where Kuala Lumpur was I would have been hard pressed to show you on the map. I always knew I wanted to see "those beautiful twin towers" with the bridge between (I saw them in the movies), but I didn't know they were in Kuala Lumpur. Now, sitting here in the city after just arriving back from a trip to the top I am sold.
With over 9 months of continuous travel under our belt, having traveled to Thailand, Cambodia and Vietnam I feel Malaysia has been sadly overlooked by the traveling masses.
Besides being one of the safest places in the world, there is an endless supply of beauty, clean air, fun activities for kids and adventure to make any family traveler swoon. Did I mention the amazing and cheap food and melting pot of cultures?
Quick Tips: 
Sim Card: 
Carrier:  Celcom
Costs:  The SIM card costs 25RM ($8), with 40RM for a basic voice and data package for a month.  Additional data costs between 28RM (300Mb) and 88RM (5Gb).  Other plans are available if your primary usage is data rather than voice.
How:  Branded Celcom stores and some 7-11's.  A passport will be required.
Topping up:  You can top up at Celcom stores, 7-11 or online.
Data speeds:  Fast 3G or 4G is available in much of the country, with EDGE/GPRS in more remote areas.
Travel and Medical: 
World Nomads Family Explorer Insurance – Truly comprehensive health and travel insurance that is inexpensive and actually works. Covers your entire family – buy in 6 month increments to save money!
Finding Flights: 
Adioso (with many great flights on Singapore air or air Malaysia as well as smaller airlines- sometimes under $25 one way)
Finding Hotels:
Peninsular Malaysia (April 23 – May 13) 22 days
1. Kuala Lumpur (5 nights)
Where we stayed: Ceria Hotel Bukit Bintang $49 per night for a deluxe family room (after Agoda fees)
This was a nice place close to the Times Square Mall and within walkinng distance to the monorail. The staff are friendly and the room was plenty big for the entire family.
WiFi: Excellent
Cool Things to do in Kuala Lumpur with Kids:
2. Cameron Highlands (4 nights)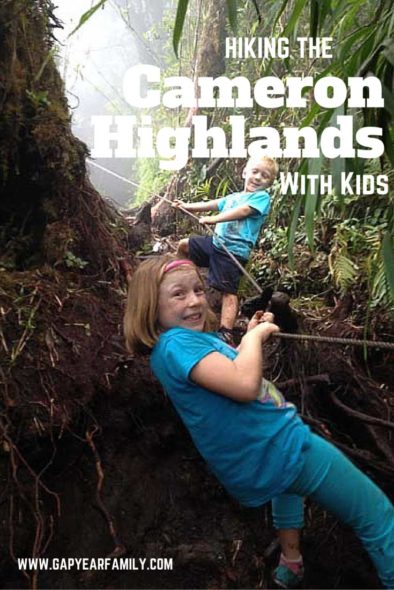 Where we stayed: Hotel De La Ferns a "boutique" hotel 2km up the hill from the main stomping grounds. We booked this because we were able to score a triple room at a last minute reduced rate. The problem is that it is a 20-minute walk into the main town. The benefit is that it is quite and provides an amazing free morning breakfast and spectacular scenery. If you have a car this would be great, otherwise I would suggest one of the hostels in town.
WiFi: Good
Just hike into the Jungle and see those tea plantations. It is worth it, and the images will be imprinted on your mind forever. The Cameron Highlands is a unique chance to experience the Jungle on your own terms. Ditch the packaged tours, go to the streets to find some local food and take a hike! There are lots of wonderful options for families.
3. Penang (Georgetown) 4-nights
Penang is a wonderful stop along your Malaysian Family Gap Year Adventure. It is full of culture, funky art, kind people and really cool bicycles.
We stayed at the discounted Star Lodge, it was a very basic, no thrills accommodation but we were able to score two rooms right in the heart of Georgetown for a total of $40 per night. They had decent WiFi and there was a wonderful hostel next door where we ate French toast every morning.  It is definitely a "flashpackers" hostel, but you can book by the night and they had availability when the entire town was full because of the labor day holiday.
4. Perhentian Islands (6 nights)
Where we stayed: Shari-la Island Resort – Probably one of the nicest resorts on the small island. Right next to Quivers Divers dive resort, it offers a protected bay for snorkeling (with wonderful fish), cheap rental gear and discount snorkeling expeditions. The daily breakfast buffet is worth $20 US and is included. At $69 for our family of four per day it was the perfect stay. We also heard good things about Coral View on the big island so that may be worth checking out.
WiFi: Shameful (which was OK because I needed to relax) – ask the manager to use his phone and landline computer if you need to book accommodations or look up hotels on the mainland. He is very nice and will give you access for free.  They have WiFi in the lobby but it is spotty.
To get to the islands sounds complicated but it is fairly straightforward. We booked a cheap flight on "firefly" using Adioso and were there from Penang in 1 hour.  From the airport, it is a 75 ringet taxi transfer to the boat terminal. We purchased our taxi ticket and our too and from boat transfers in the airport. They were friendly and they weren't trying to rip us off.
We stayed at Shari-la Island Resort and dove at Quiver divers for $19 per dive. Our kids had a great time. There was decent food nearby and the priave beahc at the Shari-la resort makes it one of the best places for the price in my opinion. Although the atmosphere is somewhat "cold" outside the resort and at the dive company we found it fun and extremely friendly.
→ 5. Detour to Singapore on our way to Borneo (Sabah) 7 nights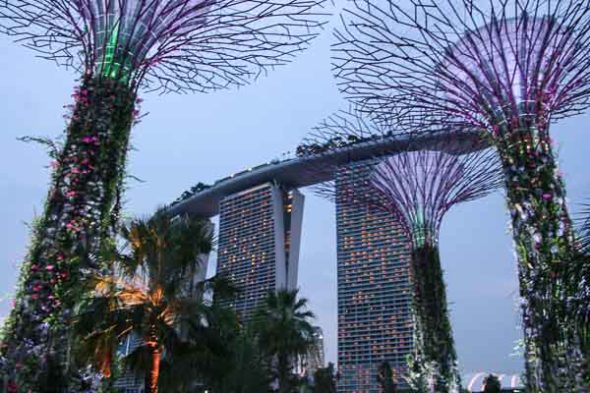 On our way to Borneo, we decided to take a detour through Singapore and spent a week there. Here, you can read more about Singapore with kids.
Borneo Malaysia (May 21 – June 6) 12 days
7. Sepilok (Sandakan) The Orangutang Sanctuary, Sun Bears, and Borneo Rain Forest! (3 nights)
Where we stayed:  Paganakan Dii Tropical Retreat
This is one of the coolest places we stayed on our trip with budget bungalows overlooking the Borneo Rainforest and the most spectacular shower you may ever have. Don't miss our on a very memorable experience. If you are staying in Sandakan, stay here!
Wifi: Horrible but present to some degree in the communal dining area.
8. Kinabatangan for the River Safari (2 nights)
Where we stayed: Sukau Backpackers
Basic but a good location for wildlife enthusiasts"
9. Semporna, Mabul and Sipadan: Divine Diving (5 nights)
Where we stayed: 
Semporna: Sea Fest Hotel
4 days in Mabul as part of our Sipadan Diver package: Scuba Junkie
Diving Sipadan Island may have been one of the better experience of my life.  To describe it in any normal terms would do it a disservice.  Hanging out on Mabul with the kids was a special experience for the entire family and I am so grateful for Scuba Junkie who welcomed us with open arms!
10. Kota Kinabalu: Peak Experiences and Creating Cultural Awareness (5 nights)
Where we stayed: Hotel 54
A Lonely Planet top pic, Hotel 54 is a superb place to stay while you are planning a climb, recovering from a climb, or simply enjoying a day of activities in the city. They have a great communal dining room and the owner is a gem who can help you with planning treks and tours.
As far as Borneo is considered, I would not call Kota Kinabalu my favorite city by any means. But the mountain 2 hours outside of it will take your breath away. Literally, and it will do a number on your leg muscles as well. It was the first big mountain that I have ever climbed and it will surely not be the last.
I had hoped to bring the kids to the mountain with me, but my wife instead took the kids for a one-day dive excursion with Scuba Junkie. They had a great time as well.  Scuba Junkie agreed to watch the kids during a snorkel while my wife went for a dive.