Our 8-Day Singapore Family Friendly Travel Guide
On our way down to Borneo from mainland Malaysia I decided I had to spend at least a couple of days in Singapore. Although it wasn't a mind-blowing cultural experience by any means, Singapore is a beautiful, multicultural, modern city that has plenty to offer in terms of good food and family fun.
Where to Stay in Singapore with Kids
Although the accommodations options are pricier, we found food to be affordable and a nice place to stay in a cool part of the city at the Bettle Box.
For a three-day respite upon arrival, we relax at the Louis Kienne Serviced Residences – Havelock.  It was expensive ($100 per night) but being able to cook and relax in a real apartment for a bit was a great break from the daily grind.
Things to do with Kids in Singapore
Play Avatar at Gardens by the Bay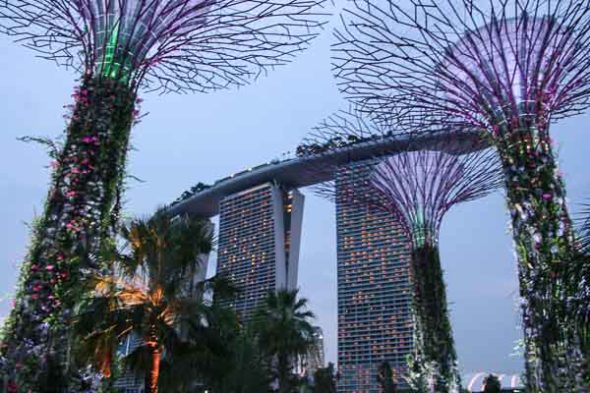 The photos in the magazines of Gardens by the Bay actually do it justice.  Probably best to take a taxi ride here from your hotel as the metro/bus is a bit of a walk from the drop off point. No need to purchase tram tickets at the park, but do purchase tickets to both the indoor domes (conservatories). The cloud conservatory is a modern marvel not to be missed!
Total cost for the family was $58 for the day which included entrance into both conservatories. HINT: If you flew Air Asia here present your ticket and you will get 10% discount!
Along with the Gardens there is a free and amazing kids play area that is open to the public without the need to purchase a ticket. With hours of Disney music playing in the background, our kids had a great time.
The Singapore Science Center
This was a real hit with the kids! The science center is a short metro ride away and is full of curious, cool activities that will fill an entire day with fun. When we were there they had a full "walk-through" human body exhibit. The kids loved crawling out the rectum!
Chinatown Heritage Center
Wild Wild Wet
Another easy trip by metro and bus, Wild Wild Wet was just $30 for the entire family and provided a days worth of fun for us all. Not a huge water park by any means, they had a couple of slides for all ages, a cool kids water area, a wave park and a lazy river. It was great on a hot Singapore day and worth a trip if you have a day and are looking for something fun to do as a family.
Sentosa Island
Sentosa island is a quick metro ride or taxi ride away. It is an upscale "buffet of theme parks" and restaurants. We chose to go to the Aquarium for the day. On Sentosa is Universal Studios and a waterpark as well as a host of other expensive rather high-end activities and hotels. The aquarium was wonderful and had some of the most impressive tanks I have ever seen as well as an amazing shark exhibit. Since I live in California we passed on Universal Studios, but if this is not an option for you, it may also be worth the spluge.
Clarke Quay and the Riverside
The Clarke Quay is an easy boat ride, jog or bike ride away. It is a "hip" area in the middle of all the action that is worth a stroll.