Were in the World is the Gap Year Family?
We are in Vietnam!
1. Ho Chi Ming City (Saigon) 4 Nights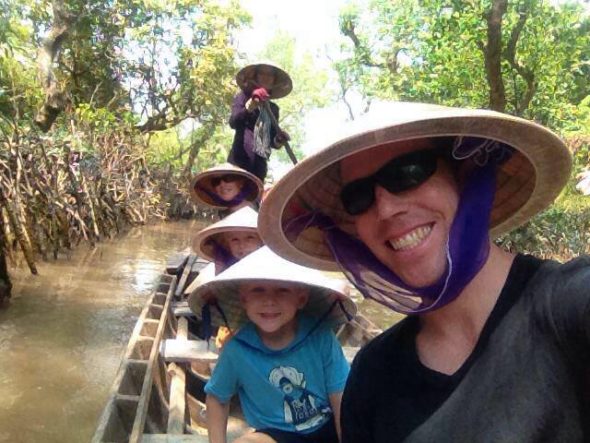 Where to stay: Dragon Palace Hotel District 1 $35 per night
Nice hotel centrally located, comfortable, smallish rooms with a great location. They have a sister hotel next door that is cheaper with bigger rooms and you get the same great breakfast.
WiFi – Excellent
Insiders tip: Make sure you do a Homestay on the Mekong Delta and eat some traditional Vietnamese Pho Noodle Soup full of mint!
Ho Chi Ming City (formerly Saigon) is a big bustling city full of people and lots and lots of motorbikes. The main backpackers district is centered around district 1 where there is a big central park, tons of booking agents and lots of good places to eat. There is an overpriced central market, the war remnants museum, rooftop bars, and lots to see and do. The small side markets sell live fish and there are many of lively locals. You can pay way too much to take a ride on one of the front riding bicycles or get around much cheaper by private taxi. The city is fairly easy to navigate, but watch out for motorbikes and your kids on the busy streets.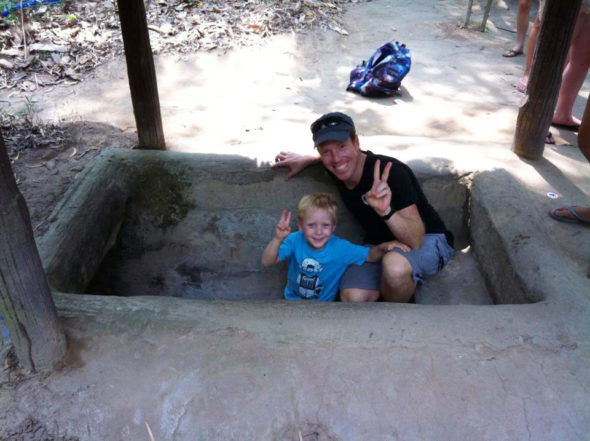 The Cu Chi tunnels are horrific and humbling. The tour itself is mostly above ground and culminates with an optional short or long walk through one of the tunnel systems. My son and I chose the short walk, and I can tell you after just 2 minutes below ground I was ready to get out. The experience itself will give you a new respect for the Vietnamese and the sacrifices the locals made during the war. The tour starts with an old black and white propaganda filled video which rightly calls out the Americans as "evil devils" – despite the video our tour guide assured us that the Americans are welcomed here in Vietnam now, and I have felt that way with everyone I meet. The tour takes you on and around the grounds where you will bear witness to animal traps designed to snare human bodies and ingenious systems for ventilation and entrance/exits to a complex tunnel system. This is a must see, that although gruesome in some parts can be done with children in a tasteful way. Just like Cambodia and the Killing fields or the S21 prison, children can gain a respect and understanding of war and the tragedies that ensue when people chose to point guns at one another. It is a hard pill to swallow but one that can be a teaching experience if you do it well.
Mekong Delta - 2 Day Homestay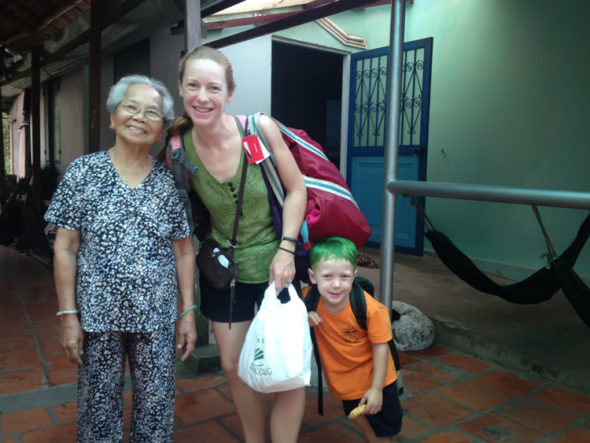 A trip to Mekong Delta is a must. There are lots of ways to get to the Delta which is a 3 hour bus ride away from Saigon but I think the easiest and the best is to simply book a tour through your hotel or one of the many travel agents that line the backpackers district. They will arrange transport and accommodations for you, which takes a lot of pain out of the process. Although it is a bit touristy they will take you to a coconut factory, rice paper factory, fruit farm, a tropical fruit farm and of course the floating market as well as a trip down the Mekong in a traditional Vietnamese boat. There are 3 options, a one-day tour, or a 2 and 3-day tour with a homestay or a hotel stay. We chose the 2-day tour with a homestay which cost us $45 and had a wonderful experience. We stayed at the Hung Homestay where the family made us feel at home and culminated with their 18-year old son coloring our son's hair green! Maybe a lapse of judgement on our behalf, but it made for a great cultural experience!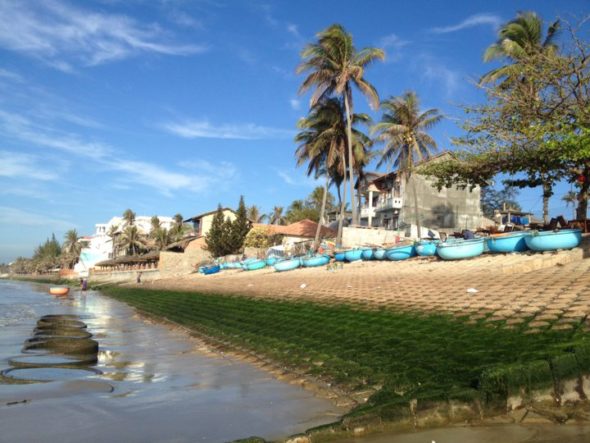 Where to Stay: Huang Kim Hotel $26 per night for a family room
The hotel doesn't seem like much at first, but if you can get one of the bottom floor bungalows you will have direct access to the beach, a nice pool and a great play area for the kids. We ended up really liking our stay here.
WiFi – Excellent
Mui Ne is a small fishing village just 4 hours north of Ho Chi Ming City. it is a logical next stop if you are going from Saigon to Hanoi and Halong Bay. It is best to travel here by passenger bus which is comfortable, air conditioned, $7 per ticket and not too long of a journey. The town itself is one long strip especially tailored for tourists, with lots of places to eat and massage parlors, as well as many hotels and shopping. As you have probably read, it is home to kitesurfing and windsurfing and if you want you can take affordable courses here. We were feeling lazy and instead enjoyed a couple of days of downtime rented mopeds, enjoyed the beach and the pool and took a wonderful walk up Fairy Stream.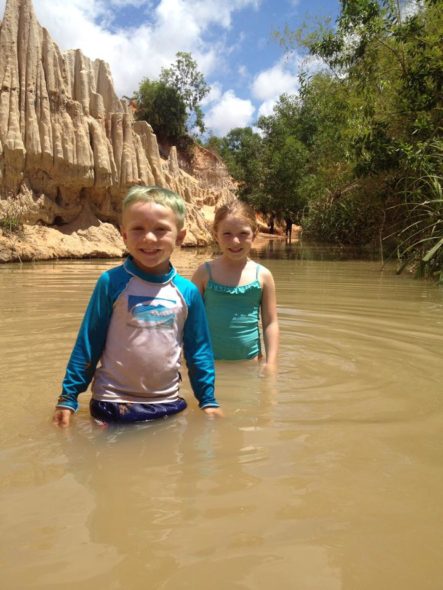 Fariy Stream is easily accessible, just 5 minutes from our hotel by motorbike. Simply park in one of the designated lots (some are free and others are paid) take off your shoes and start walking up the stream. It is a memorable experiene for the family as you stomp through mud, sand and leaches making your way to the end of the stream where there is a small waterfal. The kids loved it and so did we!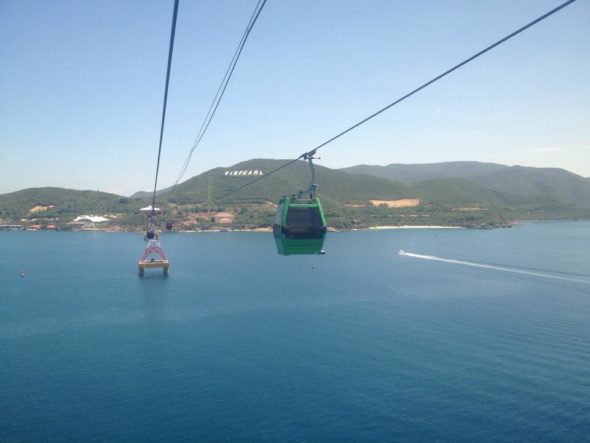 Where to Stay: LeSimoLe Boutique Apartments $60 per night for 8 bed family room with a kitchen (we were staying with grandpa)
Excellent kitchen apartment for families right in the middle of downtown within walking distance to the beach and all the good stuff. I have to admit this apartment was so great we ended up becoming very lazy.
WiFi: Excellent
VinePearl is an amusement park and just happens to be an island boasting the world's longest air tram. The ride to the island alone is worth the $25 admission fee. With one paid admission you get access to the entire park, including all the rides, a downhill luge, 4D movie theater, water park, wave pool, and aquarium. It makes a great day trip! Be forewarned if you have kids less than 1.3 m they might be a bit disappointed as there are many rides they won't be tall enough to enjoy.