Were in the World is the Gap Year Family? We are in Cambodia!
You can follow along below or read from the blog you can also take a look at all our past itineraries.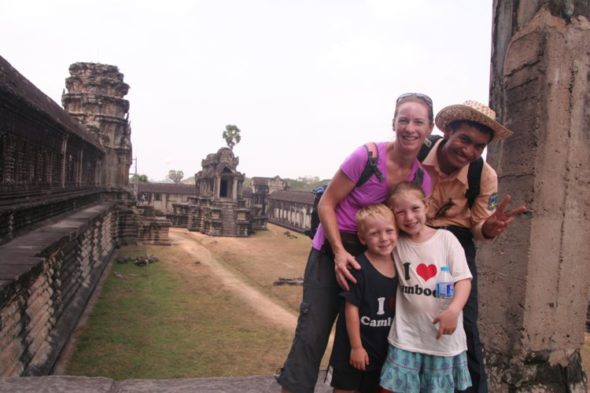 Bangkok to Siem Reap Bus Ride
Just arrived in Siem Reap after an adventurous boarder crossing from Bangkok. For a great article on what to expect read this. There are a couple of comical boarder scams you need to be aware of that will give you a one-up as you make your way across the friendly (but corrupt) boarder.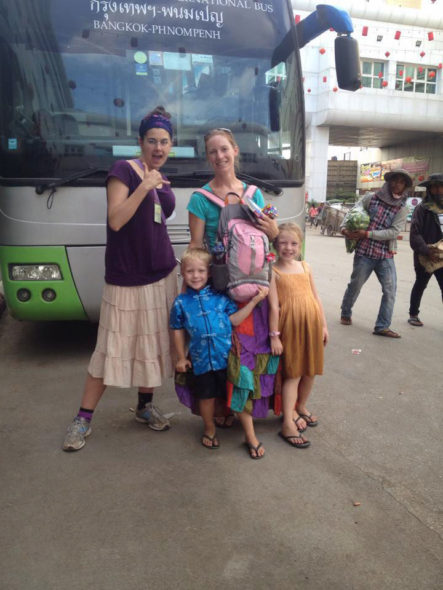 Things to do with kids in Siem Reap:
The Silk Farm: A great day half day trip with your kids. A short walk into the Old Town District and a free shuttle to the silk factory followed my an excellent display of silk worms working for much below minimum wage. Our 7 and 4 year old loved it as much as we did. itineraries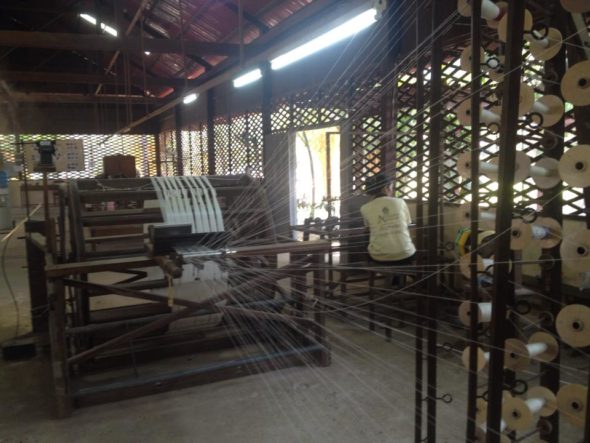 Bicycle Siem Reap Countryside Ride
Grasshopper Adventures provides tours all through South East Asia although here in Cambodia they offer great options for families traveling with small children by providing tag along bikes, kids bikes and infant seats. We had a wonderful time touring the beautiful Cambodian Countryside.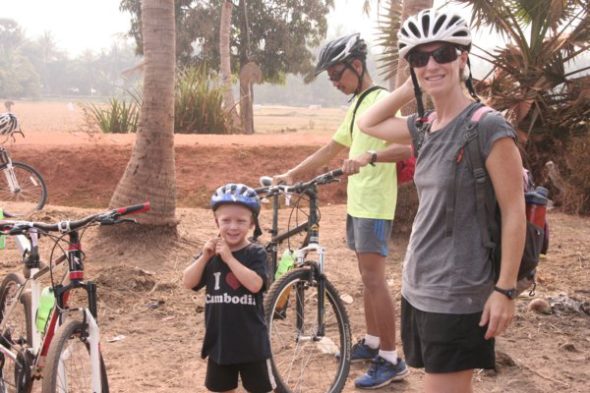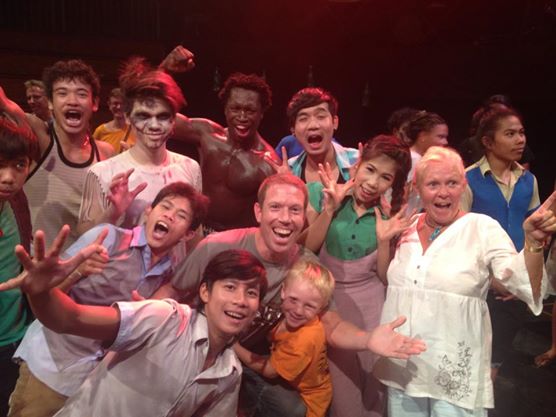 This is a must see. Part performance art, part contortionist, part acrobatics, great for the entire family!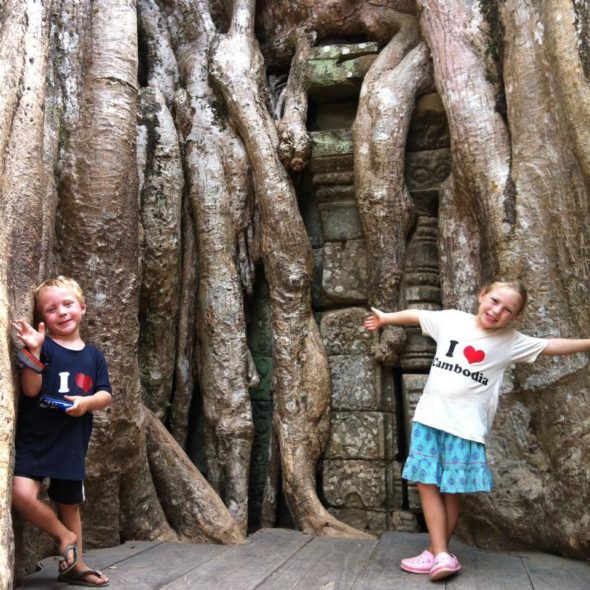 Download the free Angkor guide and search YouTube for some great documentaries prior to taking your trip to see the temples.
Angkor Wat is awesome for kids, there isn't too much walking and it can be done in one day.
Angkor Wat is a confusing only because of the vast amount of information and the millions of people who will approach you about tours, sunset and sunrise experience, tuk-tuk drives etc. But it is really simple; We took a basic tour booked through our hostel which took us to the three main temples in one day starting in the morning at around 8 am. We paid $35 for an English speaking guide (also booked by our hostel). The cost of a tuk-tuk for the day was $15 and the guide and the tuk-tuk driver were separate expenses. At the gate we paid $20 for each adult for a 1-day pass good for a full 24 hours. The kids were free.
Our English speaking guide was fantastic. We started at the main temple (Angkor Wat) entering from the back entrance, spent several hours touring and learning about the temple. We took an hour lunch break and ate with our guide at a restaurant nearby. We spent the rest of the afternoon touring the three other temples on site.
We also heard good things about the Angkor Wat bike tour offered by Grasshopper tours, it is a full-day tour, but they do offer bike trailers for younger children.
Beng Mealea Jungle Temple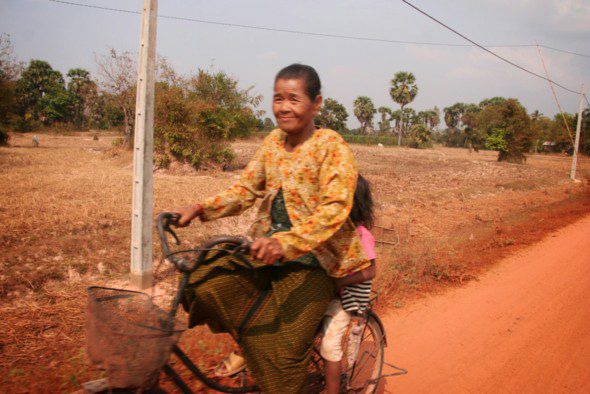 The Beng Mealea Jungle Temple is something I wouldn't have done if it were not for the advice of our excellent hostel host. The drive is 2 hours each way by tuk-tuk. This may sound imposing, but the truth is the drive alone was one of the highlights of our Cambodian trip. You will be taken through the back-country and the villages, it is a spectacular journey.
Beyond all the excitement of the temples, Siem Reap itself is a wonderful place to explore. At night, it turns into a spectacle of glowing lights and busy markets. Pub street is full of great cheap eats and lots of action. We frequented two places. A Mexican restaurant called Viva and "The Khmer Kitchen" restaurant
Where to Stay: King Grand Boutique Hotel
Wifi – Excellent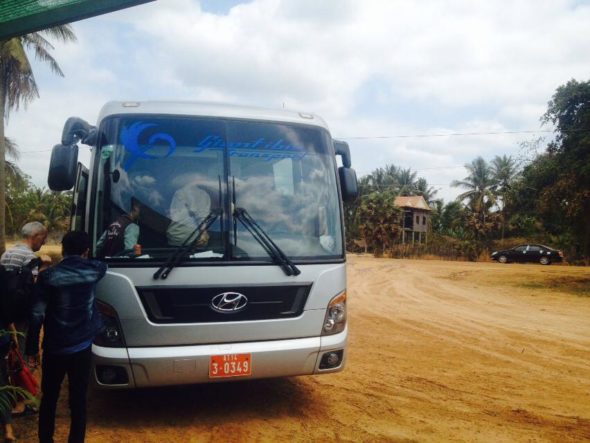 Getting there: Getting to Phenom Penh from Siem Reap was easy. We took the Giant Ibis bus, which we booked online. It was an easy and enjoyable 7-hour drive starting at 7:30 am and arriving at 2 pm. There is air-conditioning, comfortable seats some food and free WiFi along with power outlets. The cost of the ticket for a family of 4 was $64.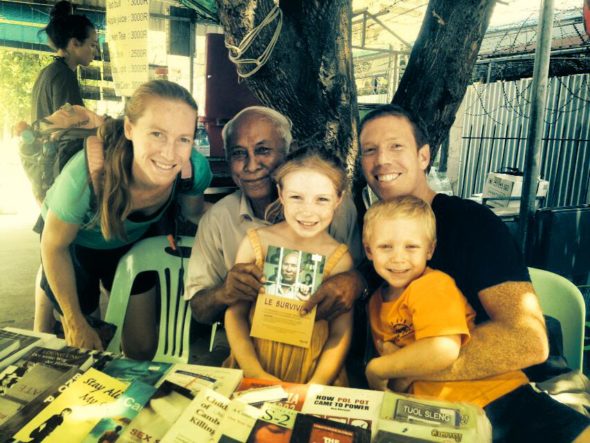 We had multiple debates with concerned parents about exposing young children to the images of the Cambodian genocide inflicted by the brutal Khmer Rouge. We decided to bring our kids along and let them decide for themselves. I think it was a worthwhile experience that gave them insight into the brutalities of war.
To be continued, check back tomorrow…